Family Wellness Care in Rancho Cucamonga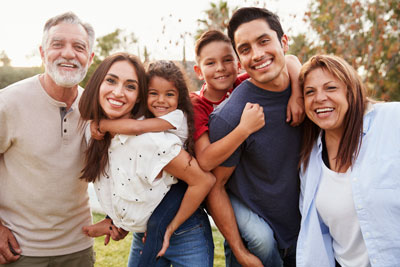 Dr. Jon specializes in care for families
, and he tailors family wellness care to each person's specific needs and goals, with the aim of creating and maintaining nervous system balance so that everyone in the family can feel and function their best.
Helping every member of the family thrive with true health and wellness is our mission at
Abundant Life Chiropractic
. Although most people don't think of chiropractic care until they have some kind of pain or dysfunction, regular chiropractic care can ensure your nervous system functions as it should—so your whole body can function as it should!
Preventative Wellness Care
We call this approach "Preventative Wellness Care," and that looks different for everyone. People who sit at desks all day may have stress in their neck and shoulders, while people who chase after kids and drive around doing errands may experience more stress in the lower back. Kids and adults active in sports need support to prevent injuries and perform their best. With little ones, we're helping them hit milestones.
Supports Your Other Healthy Habits
When you make the effort to create healthy habits for your family, such as exercising regularly, eating nourishing foods, and prioritizing sleep, it makes sense to incorporate wellness chiropractic care to help you get the most out of those other healthy habits.
Of course, we also provide care if you have pain or symptoms, but with our preventative approach, we strive to help you avoid those painful situations.
Wellness Care for Everyone
We love seeing entire families embrace a wellness lifestyle—but our practice isn't just about kids! We are here to help anyone of any age create balance and wellness through safe, natural chiropractic care. Mom, Dad, Little Ones, and even Grandparents deserve the health and wellness benefits of regular chiropractic care.
The overall knowledge Dr. Torrijos has on prenatal care is amazing. Made me feel very comfortable getting adjusted by him while pregnant.

Dr. Jon did such a great job at explaining to my husband and I, X-rays and identified what he could help correct through chiropractic care. All while making us feel comfortable. After our first adjustment we already felt so much better. We look forward to future adjustment treatments and gain overall wellness in the future.

Feels like a loving family environment. We love coming here and have been coming for many years. I've referred many people to Dr. Jon.

We felt like family with all of the special touches for our first visit.

My whole family has been seen at Abundant Life. I love how family friendly the environment is. Dr. Jon is very thorough and caring.
Schedule Care Today
Contact us today to book an appointment for you, your child or your entire family!
CONTACT US »

Family Wellness Care in Rancho Cucamonga, Alta Loma, Upland CA | (909) 483-5433